Discover Nancy
Nancy is located in North-East of France, in the heart of Europe, not far from Luxembourg, Germany and Belgium. Nancy is a city of Art and Science. With its 18th century UNESCO World Heritage Sites, its rich "Art Nouveau" heritage, outdoor terraces and relaxed way of life, you are guaranteed to fall in love with our city.
The "Place Stanislas" is on the UNESCO World Heritage list since 1983 and is one of the most beautiful squares of the world. Famous Place Stanislas will never fail to impress you. Its striking beauty and lively ambiance gives an Italian air to the city, year round. The Place d'Alliance, which resembles a mini Place des Vosges in Paris and The Place de la Carrière also received the honour.
The artistic mouvement "Art Nouveau" was created in Nancy, this style celebrated the beauty of Nature in a novel decorative art. Manufactures of luxury decorative arts such as Daum or Baccarat are still present around Nancy.
Take a little height and discover the video of Nancy and Lorraine views from the sky.
Summer School Venue
This summer school will take place over four days, alternating between theoretical lectures and practical workshops. In addition, social events will also be proposed, a guided tour to discover Nancy and its old town is foreseen and a convivial gala dinner in the city center is planned.
In addition, there will be a session for pitch presentations of the attendees. For this reason, each participant is kindly asked to prepare a short 2min (max.) pitch presentation of his professional background and activities in advance of the event. The documents (2-3 slides in pdf or power point format) have to be uploaded on the website before June 29 (The new deadline will be specified soon): Upload your file
For more information about the conference venue or the city of Nancy, please consult the « About Nancy » section.

ENSEM
2 Avenue de la Forêt de Haye,
54500 Vandœuvre-lès-Nancy
France
Tram access from the city center
Both campuses can be connected by tram in 20 minutes.
more informations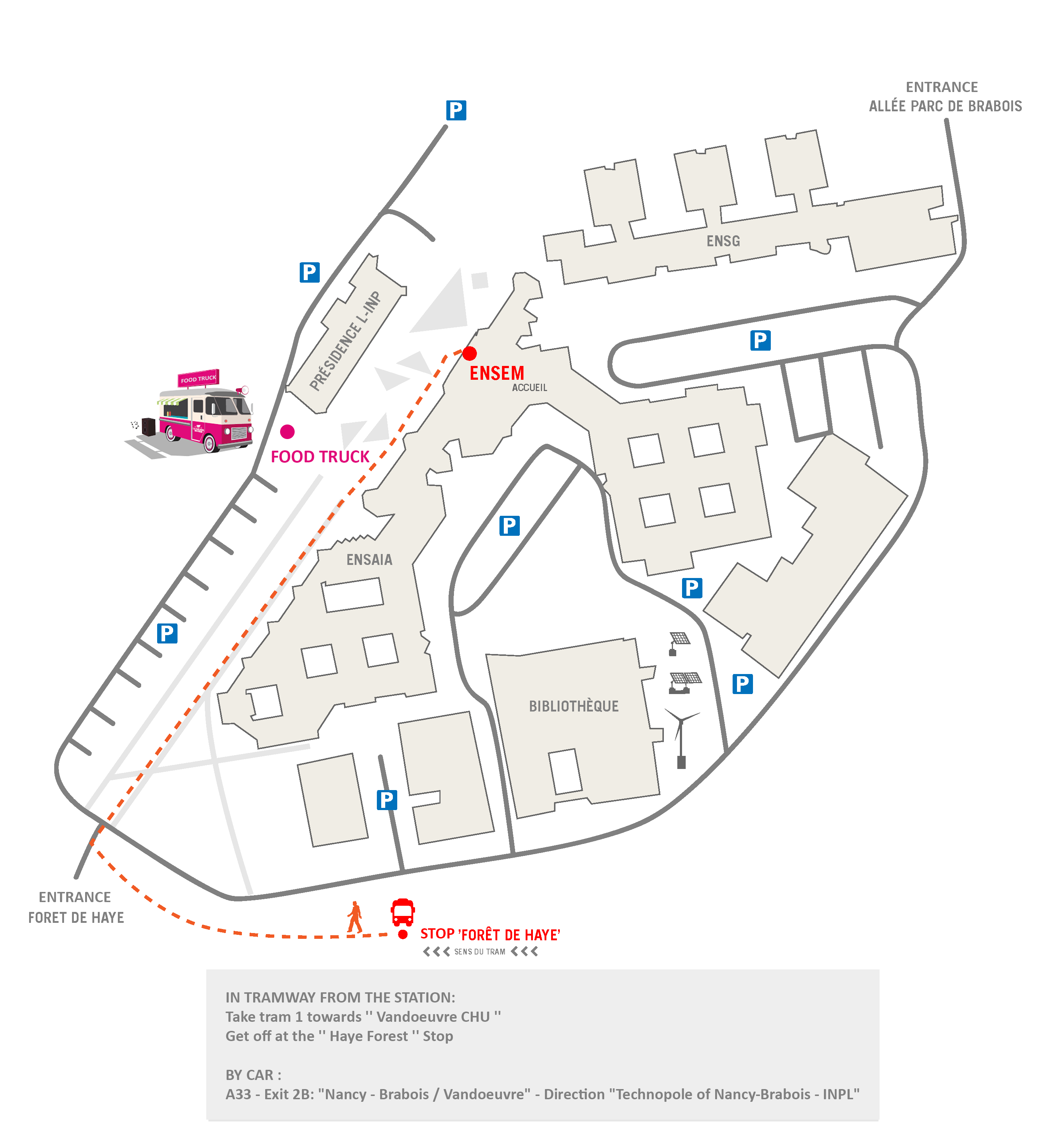 ENSEM
IN TRAMWAY FROM THE STATION: Take tram 1 towards  » Vandoeuvre CHU  » Get off at the  » Haye Forest  » Stop. Continue walking in the direction of tram traffic until you reach the entrance of the « Fôret de Haye », and will cross the parkink. ENSEM will be further to your right, indicated by easily identifiable signs.
BY CAR : A33 – Exit 2B: « Nancy – Brabois / Vandoeuvre » – Direction « Technopole of Nancy-Brabois – INPL »